The T36 Crossover is the European Powerboat of the Year 2019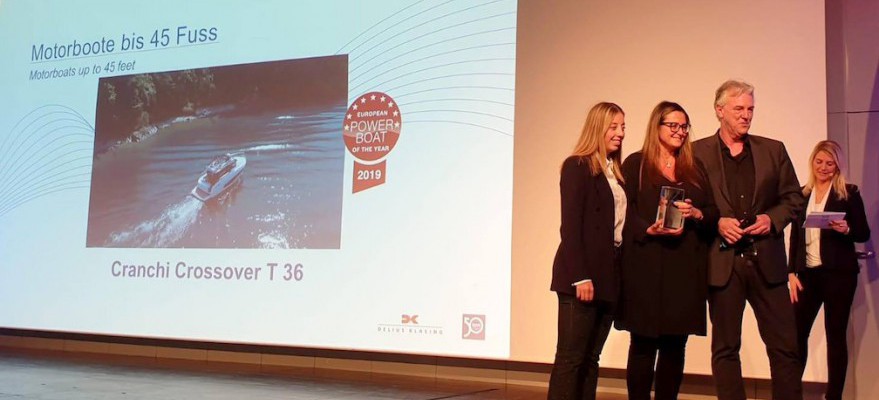 The T36 Crossover, the innovative boat designed and produced by the Italian shipyard Cranchi, has been awarded the European Powerboat of the Year 2019 in the category under 45 feet.
The award ceremony took place on Saturday 19th January, just a few hours before the start of the Düsseldorf Boat Show 2019, on the occasion of the Flagship Night, an exclusive gala evening that celebrated the best of international boating.
"This award for the T36 Crossover comes at just the right time", said Guido Cranchi, CEO of the Cranchi Yachts. "This yacht has in fact initiated a new phase of renewal of our range. The T36 Crossover, as well as the E26 that we presented in the summer or the Settantotto (78) that will debut at the beginning of the next season, shine for their quality and originality. They are models that offer the market something new; boats that conquer the experts and the nautical enthusiasts. Also, thanks to the extraordinary work on design that our shipyard is conducting together with Christian Grande."
The jury, composed of a panel of qualified journalists and nautical experts, wished to reward the T36 Crossover for its innovative approach and its merits in terms of performance, technology, aesthetics and comfort.
The ability to combine the advantages of a trawler and those of a sports cruiser was certainly a factor in the victory of the T36 Crossover. This emphasises again Guido Cranchi, " It is the two things together and the most typical definition of crossover in the nautical world: it could only be a success."

Want to become a partner?
Whether you're a yacht owner, charter company, a catering service, or you think that our brands would be a great fit, get in touch with us here to explore partnership opportunities.